100% Whey Protein Isolate
100% WHEY PROTEIN ISOLATE
HOW DOES WHEY PROTEIN ISOLATE WORK?
Fast acting to support repair and recovery†
Over 5g BCAAs and 4g Glutamine per serving
NON-GMO and zero fillers or excipients
Zero soy, lactose, gluten, or hormones
100% transparent label
NutraBio Whey Protein Isolate is guaranteed to be the absolute cleanest protein available. Each serving contains 25 grams of complete protein derived solely from 100% Whey Protein Isolate. It is fat-free with less than 1 gram of carbs making it the perfect choice for low-carb dieters or athletes who want to get ripped while packing on muscle. Our Whey Protein isolate contains no whey concentrate, added carbs, creamers or any other filler, just pure cross-flow ultra-filtered, non-denatured whey. It has a high biological value with an advanced full-spectrum amino acid profile that provides optimum nitrogen retention and protein synthesis to accelerate muscle growth and repair.
Whey Protein is well known as the most powerful source of protein for building muscle. However, there are different types of whey; the most common are Whey Protein Isolate and Whey Protein Concentrate. Whey Protein Isolate is 90% protein by weight and is the purest form of whey that exists, which is why it's the only protein we use in this product. Whey Protein Concentrate is a cheaper grade with 11% less protein than whey isolate and a lot more fat, cholesterol and lactose. NutraBio's Whey Protein Isolate contains only Whey Protein Isolate with absolutely NO whey concentrate or other proteins.
Please note:
View the supplement facts panel tab for a current version of the ingredients.
Benefits
of NutraBio Whey Protein Isolate

:
100% WHEY PROTEIN ISOLATE only!
5.6 grams of BCAA's per serving!
Maximizes protein synthesis & minimizes muscle breakdown!
Advanced full-spectrum amino acid profile!
Highest Biological Value (BV) and protein efficiency!
Improves glycogen replenishment and nitrogen retention!
100% Whey Protein Isolate with Absolutely Nothing Else:
NutraBio Whey Protein Isolate contains 100% Whey Protein Isolate only! There is No whey concentrate or other proteins, maltodextrin, dextrose, creamer or any other filler in this product. It is lactose free, fat free, cholesterol free, gluten free, BSE/TSE free, filler free, excipient free, non-denatured and kosher. These days, the market is flooded with protein brands and to compete companies use confusing labels and deceptive claims to hide cheap ingredients in their products. It's almost impossible for the consumer to figure out what they are really getting. We make it simple by providing full label disclosure. We never hide cheap ingredients in deceptive proprietary blends. Our labels are simple, honest and disclose every single ingredient along with the exact dosage. Our label doesn't state "100% Whey", it states "100% Whey Isolate" so our unflavored version contains absolutely nothing but whey protein ISOLATE, and out flavored versions contain a small amount of flavoring, that's it.
To Make the Best Protein You Must Start With The Best Ingredients:
Our factory fresh whey protein isolate (WPI) contains 25 grams of pure protein per scoop and is lactose free, fat free and cholesterol free with less than 1 gram of carbs making it the perfect choice for low-carb dieters or athletes who want to get ripped while packing on muscle. Our WPI is 100% pure, non-denatured, non-acid treated whey isolate with absolutely no whey concentrate, ion exchange, or other cheaper forms of protein blended in. Whey protein isolate has the best overall amino acid profile, biological value and protein efficiency for building muscle. Adding anything else to it just takes away the benefits you should be getting from your hard work, so we don't. No games, no tricks just the purest, freshest whey isolate available.
High Biological Value & Protein Efficiency:
You've just chosen the world's leading muscle building protein designed specifically for individuals needing the highest quality protein. This protein has a Biological Value of 159, Protein Digestibility of 95, Protein Efficiency Ratio of 3.6, Net Protein Utilization of 92, and a perfect 1.0 PDCAAS (Protein Digestibility Corrected Amino Acid Score).
Advanced Complete-Spectrum Amino Acid Profile:
Rich in Branched Chain Amino Acids. Provides the perfect profile of Essential, Non-Essential, and Conditionally Essential amino acids that your body requires for optimum nitrogen retention, protein synthesis and muscle growth.
High in Glycomacropeptides:
Contains approximately 18% GMP (glycomacropeptides), while ion-exchange whey isolate contains none. GMP may play a role in controlling some gastrointestinal diseases.
Ingredients may change from time to time as we update our products. Please check the label on the bottle.
2 POUNDS: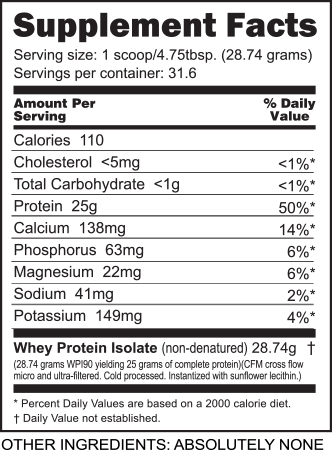 5 POUNDS:
Suggested Use: Add 1 scoop (25 grams of protein) and 8 ounces of cold water, milk or your favorite beverage to a shaker cup or blender and mix for 25-30 seconds. Vary the amount of liquid to meet your desired taste and consistency. Drink 1-4 servings daily as needed to satisfy your protein requirements. Using nonfat milk instead of water will give you a thicker, creamier shake. Consume approximately 1 gram of protein per pound of body weight through a combination of high protein foods and protein supplements. For the best results, consume your daily protein allotment over several small meals spread evenly throughout the day. For best results on training days, always consume at least 1 serving within 20 minutes after your workout. Add to cereal, pancakes, oatmeal, etc., to get more protein into your daily diet.